VR Group business review for July–September 2021
27. October 2021 Press releases
VR Group's net sales developed favourably in the third quarter. VR Passenger Services achieved a positive result, driven by leisure travel. The demand for VR Transpoint's transport services remained at a good level.
July–September 2021 (Q3) in brief:
The Group's net sales increased by 10.7 per cent to EUR 219.6 (198.5) million.
The Group's net sales increased by 10.7 per cent to EUR 219.6 (198.5) million.
Operating profit (EBIT) was EUR 12.6 (13.0) million, or 5.7 per cent (6.5%) of net sales.
Comparable operating profit (EBIT) was EUR 12.2 (12.2) million, or 5.6 per cent (6.1%) of net sales.
Cash flow from operating activities was EUR 23.4 (29.3) million.
Travel volumes increased by 16.7% in long-distance trains in July–September, and 2.6 (2.3) million journeys were made.
The railway transport volumes of VR Transpoint increased by 6.3 per cent and were 9.3 (8.7) million tonnes.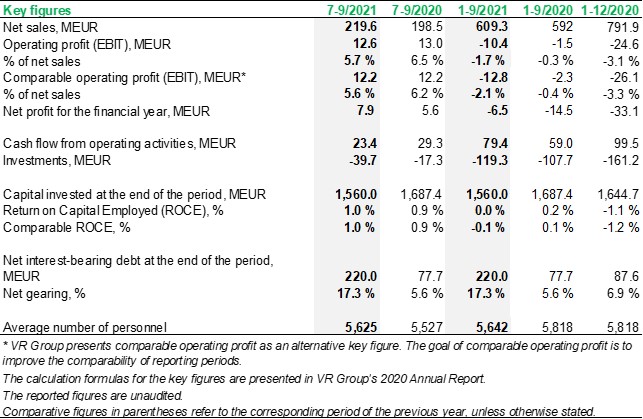 President and CEO Lauri Sipponen:
"After the long downturn caused by the coronavirus epidemic, it is a pleasure to see that our Group's net sales grew again and the operating profit for the third quarter was positive. VR Passenger Services' net profit for the period was positive for the first time during the epidemic, driven by leisure travel, and the demand for VR Transpoint's transport services remained at a good level.  This success would not have been possible without our skilled employees who saw to customer service and engaged in innovation during the crisis. 

A positive turn took place in train travel during the summer. The sales of VR Passenger Services has developed favourably while the society has been gradually opening up and the restrictions have been eased following the progress of vaccinations. Moreover, we have supported travel with price campaigns and our new services, such as delivery of breakfast to night train cabins, have met a favourable reception. Even though we have not reached the passenger volumes of 2019 in long-distance traffic, we can see growth year-on-year. 

Travelling is currently strongly focused on leisure travel. Travel volumes were high in the autumn colours seasons, and night trains in particular have been popular. Everyday work-related travel did not recover equally well. VR operated with an extensive service range; additional long-distance train services were added for the return to work and school. In addition, completely new services were added to night train traffic. A public procurement of new night train stock was also launched during the period under review, including nine sleeper cars and eight car-carrier wagons. 

We are investing in climate-friendly electric traffic in both train and urban traffic. The launch of tramway traffic in Tampere was celebrated in early August, with VR becoming a tramway operator. Additionally, Pohjolan Liikenne began to operate electric buses in Sipoo, and more electric buses will be deployed in Kotka as well as Tampere in the next couple of years. 

The growth in the transport volumes of VR Transpoint continued and net sales exceeded the previous year's level. The strong business cycle of the forest and metal industry contributed to the growth, increasing the volumes of rail and road logistics.  International railway traffic also picked up during July–September. However, record-high electricity and fuel prices have weakened profitability. The acquisition of Transitar, a transport company that specialises in recycling logistics, was completed in early July, as a result of which VR Transpoint is strengthening its position in circular economy logistics. 

VR FleetCare's operations in Pieksämäki expanded with the commissioning of a new component workshop. Production began in September, and the component workshop refurbishes the bogies of VR Group's locomotives, for instance. Component lifecycle services were recently centralised in a separate business unit. VR FleetCare is taking steps towards growth and is expanding its maintenance expertise from rolling stock to a new industry, starting to maintain electric buses in Tampere." 
Outlook for the current year
The covid situation continues to define the outlook for the rest of the year in VR Passenger Services. The trend in leisure travel seems favourable, but the recovery of work-related travel still involves uncertainty in spite of the expiry of the nationwide remote work recommendation. The demand for VR Transpoint's transports is expected to remain unchanged at a high level. However, increasing electricity and fuel prices are having a negative impact on profitability. 

At the group level, VR Group expects the full-year net sales to grow and the result to improve compared to the previous year. In the long term, the megatrends of urbanisation and environmental consciousness support the popularity of climate-friendly rail traffic. At the societal level, the attitude towards rail and public transport is positive. Both passenger and freight traffic customers increasingly aim to increase their use of rail traffic. VR Group also increases the share of rail traffic through its own actions and by meeting the expectations of its customers.